REACHING SOUTH FLORIDA WITH YOUR MESSAGE
South Florida businesses, non-profits, and municipalities have a unique opportunity to reach customers and communities for a fraction of the cost of traditional advertising. BECON (Broward Education Communications Network) can help you bring your message to viewers from West Palm Beach to the Florida Keys.
BECON's television station, WBEC-63 (BECON-TV), reaches a larger potential audience than nearly every other station in South Florida. Increasing numbers of television viewers are "cutting the cord" and choosing to watch local television via over-the-air signal instead of cable or satellite. BECON-TV's digital broadcast signal reaches over-the-air viewers in all of Broward, Palm Beach, and Miami-Dade counties. And those who use cable and satellite providers, including DirecTV, Dish, Xfinity, and local cable systems, all have BECON-TV in their channel lineup. BECON also operates WKPX 88.5-FM, a radio station reaching all of Broward County.
By placing your message on BECON-TV, you can tell viewers throughout South Florida about your work, your services, and your support for public education. While non-commercial announcements don't use the same tactics as most traditional broadcast advertisements, they do present your organization in the most positive light to the surrounding community.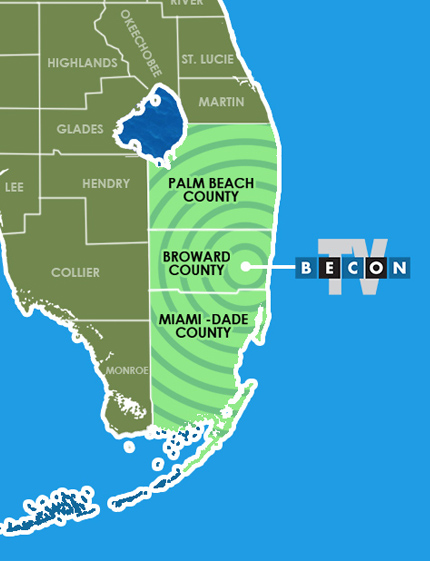 HERE ARE SOME OF THE WAYS YOUR ORGANIZATION CAN BE FEATURED
Become a corporate underwriter for educational programming

Become a corporate sponsor for a unique program, such as School Duel, South Florida's premier high school academic quiz show

Engage BECON to produce and air a program featuring your organization's work in the community, such as Future First, presented by the Children's Services Council of Broward County

Sponsor coverage of local school sports broadcasts

Engage BECON to produce and air public service announcements related to the work of your non-profit organization, to air on BECON-TV and/or WKPX-FM

Appear as a featured guest on BECON-TV's public affairs program, County Line

Broadcast your town or city's council meetings or community service announcements
To learn more, email your questions and contact information to gm@becon.tv, or call me at 754-321-1000. Let's discuss how we can work together to advance your message and support public education throughout our community.
–Rick Reynolds
General Manager
WBEC-TV and WKPX-FM