ABOUT BECON
BECON (Broward Education Communications Network) is the media production and support operation for Broward County Public Schools (BCPS). BECON-TV (WBEC-63) is just one element of a broad range of media services provided to District schools, departments, and the community, including video production, engineering support, classroom equipment maintenance and repair, print services, and distance learning coordination and support..
Working in support of the sixth-largest public school district in the country presents a challenge that our BECON team embraces enthusiastically. We serve over 200,000 students and over 30,000 teachers and staff with media tools and standards that are constantly evolving. While the heart of our operation and our top priority is the K-12 classroom experience, our broadcast operation provides a unique opportunity to enhance learning for K-12 and non-traditional students throughout South Florida. We are dedicated to advancing the mission of BCPS: "Educating all students to reach their highest potential.".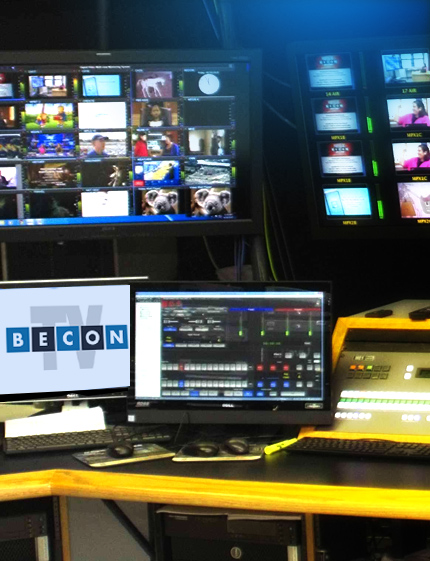 BECON-TV
BECON-TV broadcasts educational and public interest programs on WBEC Channel 63, an FCC-licensed station covering both of South Florida's major media markets, Miami-Fort Lauderdale and West Palm Beach-Fort Pierce. Our broadcast signal and presence on all local cable and satellite carriers give BECON-TV a potential viewing audience of nearly 2.5 million households.  Over-the-air viewers and subscribers to ATT Uverse, DirecTV, and Dish Network watch BECON-TV on Channel 63, while Xfinity subscribers can tune in on Channel 19 or 488 (HD).
As a non-commercial station, BECON-TV does not sell airtime for advertising spots that bring in the revenue required for major programming purchases. Likewise, WBEC is not a PBS affiliate with access to national public broadcasting programs. Instead, BECON-TV has carved out a unique identity as a community station with a mix of educational and local public interest programs. We are particularly proud of unique programs you will only see on BECON-TV—programs like School Duel, South Florida's premier high school academic quiz show, and Short Cuts and Broward Teen News, programs featuring the creativity of award-winning student producers. Viewers enjoy other programs unique to our South Florida community, including Future First: Focus on Broward's Children, Spotlight on the Arts, County Line with host Frank Loconto, and New Haitian Generation.
OUR HISTORY
BECON was birthed over 50 years ago as ITV, the Instructional Television Center, in response to the vision of Broward County Public Schools leadership to use media to support education. Instructional programs were produced to enhance student learning and provide professional development for teachers. A studio production facility was linked to small local cable systems that were being established in cities and towns across Broward County.
Education Broadcast System (EBS) frequencies were secured from the FCC, and a broadcast network was built to beam programming directly to all county schools from a tower at the central production facility in Davie. In 2000, the School Board of Broward County (SBBC) secured a full-power television broadcast license, expanding its potential viewing audience to all of South Florida, from West Palm Beach to the Florida Keys, as WPPT became WBEC—BECON-TV.
A thriving, comprehensive educational content delivery system, providing anywhere, anytime learning in support of the education process for students naturally expanded to begin involving the community as well. BECON adopted new videoconferencing technology to bring remote instruction from local museums, nature centers, and historical sites directly into classrooms for live, interactive learning sessions.
BECON continued to expand, establishing a team of electronic technicians (School Services) to install and repair classroom-based media equipment, and a team of designers (Print Graphics) to produce posters, banners, and other educational support materials. An online learning program established at BECON grew to become what is now Broward Virtual School, a fully-online program serving nearly 12,000 students per year.
BECON TODAY
BECON continues to adopt and employ new technology in support of the mission of Broward County Public Schools—a mission that includes providing educational resources and opportunities for adult learners as well as our children. BECON recently completed its conversion to full HD-quality video production and broadcasting, upgrading its broadcast studio, field production, and editing equipment. BECON also moved production facilities for WKPX-FM radio to the BECON broadcast center—a move intended to create opportunities for students from any public school in Broward County to experience hands-on instruction and experience in radio and television production.
BECON also now manages the Districtwide IPTV system, which provides every school with the technology needed to produce, broadcast, and archive their own video content. Teachers can also access multiple channels of broadcast content provided via BECON to record programs for on-demand viewing as a supplement to their lesson plans for students.
BECON's Production Services team supports dozens of live events each year, recording, broadcasting, streaming and archiving hundreds of video messages. The team has produced hundreds of instructional programs covering subjects including math, science, language, and handwriting that are provided to BCPS teachers and leased to other school districts across the country.
BECON actively invites partnerships with community businesses and non-profits, offering production and print services and opportunities for sponsorships that support education and bring visibility to organizations committed to improving the quality of life for all South Florida residents. For more information on production and sponsorship opportunities, email gm@becon.tv.